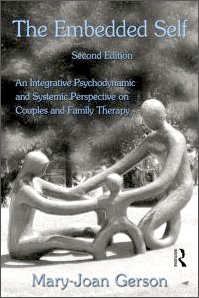 The Embedded Self:
An Integrative Psychodynamic and Systemic Perspective on Couples and Family Therapy
by Mary-Joan Gerson
Price: $32.36
Binding: available in paperback and hardcover
Pages: 304
Published by: Routledge, 2nd edition
Publication Date: August 27, 2009
ISBN: 978-0-415-99242-8
Available at Amazon.com
About the Book
When it was first published, The Embedded Self was lauded as "a brilliant and long overdue rapprochement between psychoanalysis and family therapy conceived by a practitioner trained and experienced in both modalities of treatment." Mary-Joan Gerson's integrated presentation of psychodynamic and family systems theory invited therapists of either orientation to learn the tools and techniques of the other, to mutual benefit. Firmly grounded in detailed case presentations, her focus on family therapy examined its history, organizing concepts, and developmental approaches, and addressed practical questions of diagnosis, clinical interaction, and referrals.
Today, the psychoanalytic community is more open to integrating perspectives, and the growth of analysts working with couples and families necessitates an update of the material presented in The Embedded Self. Similarly, the family therapy community has deepened its interest in individual dynamics within systemic patterning. From a new and revised perspective on the possibilities of integration, Gerson covers the latest research in neuroscience and the transmission of affect within intimate relationships, with a new chapter on attachment theory and emotionally focused therapy. Sections on narrative therapy and psychoanalytically-oriented family therapy are expanded as well.

Reviews
"Mary-Joan Gerson speaks to psychoanalysts from the perspective of family therapy and to family therapists from the perspective of psychoanalysis. Now updated in breadth of coverage, extended clinical illustrations, and new possibilities of integration, this dual approach brings novely to familiar concepts and phrases. Like a book of Borges' poetry that I read in both Spanish and English, The Embedded Self brings intellectual challenge and esthetic pleasure. Any clinician, whether system or psychodynamic, will find this book an enriching and thought-provoking experience."
— Salvador Minuchin, M.D., Research Professor of Psychiatry, NYU Medical Center

"This was a marvelously comprehensive and integrative book when it first came out. In this new edition it is even better! It adeptly integrates new developments in fields such as attachment theory and neurobiology, thus extending its already impressive synthesis of systemic and psychodynamic thought. A powerful and important book."
— Paul Wachtel, Ph.D., Distinguished Professor, City University of New York

"Mary-Joan Gerson's masterful synthesis of psychoanalytic and systems perspectives on couples treatment has stood the test of time. The second edition retains the impressive breadth, emotional depth and intellectual heft of the original volume, while adding crucial new material on adult attachment and neurobiology. It shows how an understanding of the complex linkage between romantic partners can free up stalemated treatments, creating empathy and responsiveness where there was only harshness and withdrawal. Couples work is hard to do. It's important to have a book like this one at the ready."
— Virginia Goldner, Ph.D., Faculty Emeritus, Ackerman Institute for the Family

"This beautifully written book is a gift to therapists working with couples and families. At one time, the underlying premises of psychoanalysis and family therapy were considered incompatible, but times have changed. Mary-Joan Gerson, steeped in both traditions, expertly illustrates how each perspective can be enriched and vitalized by the other."
— Marcia Sheinberg, LCSW, Director of Training and Clinical Services, Ackerman Institute for the Family